The American Moth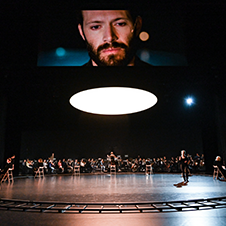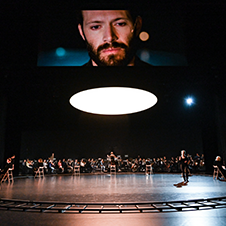 The American Moth is a hybrid, multi-medial performance combining dance, theatre in multiple languages and cinematic live video.
Featuring an extraordinary cast, including the legendary Liv Ullman, The American Moth is a poetic exploration of the sympathies and resentments at play in inter-generational relationships – what's loved and what's lost, experience, memory, time. But leaping between hearts from old to young and back again, love is never alone, fear leaps alongside it.

Undeniably influenced by the ongoing global pandemic – The American Moth reveals a series of personal stories in a stripped-down, confessional format. Amid the lies and labours of an increasingly confused world, an ancient demon grows stronger. A shared anxiety, while causing us to huddle together, threatens to tear us apart.
Using state-of-the-art film cameras with cinematic lenses, winter guests push the envelope on live-video in a theatrical context, bringing the audience up-close and intimate – cinematic intensity on stage.

With The American Moth – looking both backwards and forwards in time - Alan Lucien Øyen and a cast of truly extraordinary performers, will attempt to reconnect with the wisdom that the modern world is rapidly losing.

The American Moth was opened the Bergen International Festival in may 2020 and was co-produced by The National Theatre and Concert Hall, Taipei, The Kennedy Center for Performing Arts, Washington D.C, ITA, Amsterdam and The Norwegian Opera and Ballet.
Interantional touring 2022 - 2025.
نمشي , adidas bold age leggings girls dance studio - تسوق تشكيلة اديداس اوريجينالز للأطفال مع تخفيضات 25 - 75% أونلاين في السعودية | SBD - 100 Release Date - nike air yeezy brown pink blue eyeshadow black Tech Grey CT8527 - nike swoosh shoes high cut women black dress boots